Grainne Kelly Shares GREAT TIPS for a STRESS-FREE Summer Air Travel with Kids!!
Help Your Kids Have A Fun, Safe, And Hassle-Free Experience In The Airport And On The Plane.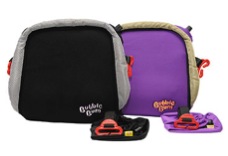 Tips For Having An Enjoyable Airport and Flight Experience With The Kids
Let your children help pack their own bags so they can pick out a couple of things that they really want for entertainment. It might be a book, an electronic device, or even one of the many travel games that are available.
 
When you get to the airport, let the children be responsible for their own bag or small backpack containing their chosen goodies. The smaller the child, the smaller the pack, but everyone carries their own. If the children are carrying their own stuff, they get to feel grown-up and it's less for you to carry. You will be more hands-free to direct them safely onto trains, escalators, etc.
 
Security – Herding children through security isn't as hard as it might seem. If you have more than one adult to help manage them, then it's no problem at all; you just send the children through one at a time to the other adult who has gone through first. It's another story if you are the only adult traveling with more than one child, but you can do it. Send the children through first so they don't follow too closely behind you and you are forced to do the whole walk-through dance again. Older children should be able to put their own carry-on through the x-ray. Remind them that they are in charge of their own bags. Above all, explain to the children how the security check works before you get there and remind them again while you are standing in the line. Knowing what to expect will make it go much smoother.
 
Pre-Board and In-Flight Entertainment – As with a road trip, this is time spent as a family unit and should be welcomed and cherished because it allows time together and the opportunity to play loads of family games like traditional I-Spy, the wonderful Alphabet Game, and "I went to the shop yesterday." You can also make up new games, which is a game in itself!
 
Ground Transportation – Bring a stroller and gate check it. We recommend an inexpensive umbrella-type stroller for use in airports with toddlers. Toddlers tend to get really tired with all the walking that is often required. They may want to walk anyway, in which case you can use the stroller to hold your carry-on bags. It's easy to fold up and bring through security. Of course, if your children can handle walking a long distance and you can get by without a stroller, then that's one less thing to haul around.
 
Escalators – The escalators take some practice and you should always hold hands with the little ones, or take the elevator if you have a stroller. There are almost always elevators near the escalators, which will be easier to use with toddlers in-hand.
 
ID for Kids – A great safety item for parents in crowded airports is a child's ID bracelet with your phone number on it. The personal information is written on the INSIDE of the bracelet for privacy. There are also some great products out there which warn you if your child strays too far.
 
Snacks – Do not carry juice with you — it will just leak! Nowadays, airlines do not let you carry more than 3 ounces of liquid through security. If you must carry a drink, make it water (after you've gone through security of course). Definitely bring something to eat. Many young children will not like what the airline has to offer, and most airlines do not serve food anymore except for a bag of peanuts or pretzels, if you're lucky. Kid friendly snacks that will vacuum easily are a must, and if you live in a warm climate, don't bring anything that will melt.
 
Electronic Devices – Be sure to warn your video-gamers that during certain times in the flight, an IPOD, DS or PSP with headphones is not allowed to be used. Explain that it might interfere with the Captain's instruments and that he will ask passengers to turn them off. And of course, please give consideration to other passengers on board. The noise from cute little electronic games may not bother you, but it may really annoy a grumpy stranger near you on airplane. Turn off the volume or leave the noisier devices at home.
 

Ear Pain – If your child is prone to ear pain in flight, there are several things you can try. Children often have trouble with their ears during takeoff and especially during the decent. It helps to have them keep swallowing during this time. For an infant, you should try breastfeeding or feeding them a bottle during this time, or you can try a pacifier. Older children can try sucking on a lollipop or chewing gum.
Grainne Kelly is a USA certified CPST and  the founder of BubbleBum, the first-ever inflatable booster seat that weighs in at less than one pound and can deflate in minutes.  This revolutionary car booster seat is perfect for road trips, fly ins with car rentals, cab rides, and every day carpooling. Available at http://www.bubblebum.us
About BubbleBum
BubbleBum, the first ever inflatable booster seat, has made traveling easier than ever! It's the perfect solution for car rides, fly-ins with car rentals, cab rides and everyday car pooling. Weighing in at less than one pound, BubbleBum can deflate in minutes making it simple to throw in a backpack or large purse. BubbleBum includes belt positioning clips in place of arm rests, so it's possible to fit three boosters across the back seat of a car, minivan or SUV. With its satisfactory design for parents and children, BubbleBum is proud to join the exclusive winners circle selected by the PTPA (Parent Tested Parent Approved) Media Awards. BubbleBum was also recently announced the IIHS (Insurance Institute of Highway Safety) "Best Bet" in their booster seat evaluation report, where they've branded BubbleBum as one of the best for safety!
BubbleBum ($39.99) is sold online via their website and is now conveniently available at all of our favorite retailers: select Target stores, Target.com, Babiesrus.com, Sears.com and Walmart.com. You can also connect with them on Facebook,Twitter and Pinterest.