Have You Heard Of Dealspotr?
Dealspotr is new to me. However, scouring the Internet for coupons and trying to save as much money while shopping on-line is not just a hobby but a mission!  I just can NOT pay full price without at least trying to find the lowest price.
I've found a site that is new to me called Dealspotr which is different from other coupon sites around the Internet for several reasons. First, this is a social coupon site where people all over the Internet share coupons, code and deals that they have come across. These are coupons that are good at brick and mortar stores as well as across the Internet.  Post a  new promo or coupon or in-store and you earn Amazon Gift Cards for FREE!! Y'all know how much I love my Amazon! So having extra money to spend there is a major perk for me!
Talk about living up to their nick name of "Wikipedia for deals"!! Dealspotr content is crowdsourced, which means that there are over 30,000 members that add, edit, and police all the deals on Dealspotr to ensure our deals are accurate and complete. That's a lot of double, triple and well; 30,000 time checking so the deals are current and working! Dealspotr has the highest coverage and reliability in the industry. How could it not with all these members!?
Dealspotr launched just over a year ago and has already saved shoppers over $15 million dollars! Fifteen MILLION!! The site itself is viewed by over 1 million shoppers a month making this one of the fastest-growing deal sites.
Signing up is super easy. I can even set up the deals that most interest me. I get my own personal feed of deals, so I can select the deals that I am most interested in seeing. When you sign up you start by choosing your categories out of Electronics & Tech, Fashion, Restaurants & Eating Out, Fitness & Sports, Home, Grocery & Drugstore, Gifts & Gift Ideas, Beauty & Wellness, Travel, Babies & Kids, and services. After you have selected your category then there are tons more subcategories.  Today's favorite deal for me? Starbucks 15% off! I love my Starbucks coffee. Sometimes I like to just scroll through the deals other times I use the search bar for quick easy deals for a specific item like kids toys for an upcoming birthday.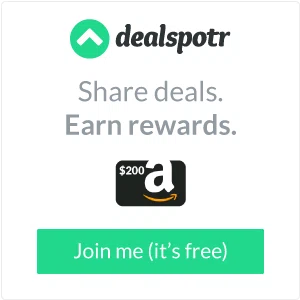 When you earn 10,000 points, you can turn those points in for a $10 Amazon gift card.  Hold your points to save for larger gift cards.
HOW TO EARN POINTS:
There are several easy ways to earn:
Post a deal; This is really easy! Instead of deleting that email that just arrived in your inbox post it to Dealspotr! It's super easy!
Comment on a deal that is already posted
Invalidate deals that are expired or no longer work
Refer your friends and family and you will earn 10% of the points they earn for a lifetime!! LIFETIME!! I'm shamelessly hoping you'll sign up through my link HERE please??
Here are a few of my favorite hot deals right now! From Target to Walmart. Kohl's to JCPenney and SO MANY more sites!
Dealspotr is Worth Your Time!!
Save money. Earn money! What could be better than that?!
Join NOW and get an EXTRA 5,000 points. Which means that you are already halfway to your first $10 Amazon Gift Card!! That's FREE money! Just for signing up and saving money!! Sweet!!! Click HERE and use MXvihzu9 during registration for the bonus 5,000 points. Sweet DEAL!!
Follow on their • Website • Twitter • Facebook • Google+ • Pinterest
Just a couple more of my favorite deals going on right now!