Celebrity Families Going Green
HOLLYWOOD MOMS & DADS ARE GOING 

GREEN

 FOR EARTH DAY


Earth Day is arriving shortly on April 22nd and many celebrities are out supporting the rise of environmental awareness.  To name a few, Hollywood stars such as Tori Spelling, Jessica Alba, and Mario Lopez are spreading the word by turning off lights, recycling, and using leftover cardboard boxes to make toys for their children.

Tori Spelling and her four children, sons Liam and Finn and daughters Stella and Hattie, are going green not just on Earth Day, but every day. They are truly a cute family!


"Every day is Earth Day in our house," Spelling said. "We definitely try to teach our kids to take care of the earth. Just the other day, actually, in fact it was in the playroom, Liam came up and said, 'I turned off the lights in the playroom because I don't want the earth to get sick.' It was really cute."

She also told Celebrity Baby Scoop that she teaches her children to recycle and compost.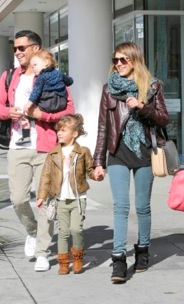 Jessica Alba, with her husband Cash Warren and their two daughters Honor and Haven, talks about having an eco-friendly lifestyle as a family. Could Jessica Alba, and her family, be any more stunning? 


"First and foremost, we try to model and practice eco-friendly habits for the girls," Alba said. "Otherwise, we talk to them about being mindful and explain that things can be turned into something else one day. This can be as simple as teaching them about recyclables and showing how to sort bottles and cans from trash."

She also added that for fun crafts with the children, they like to make paper airplanes and other creative toys out of old cardboard boxes, as it shows the children how to repurpose old items. The process is fun and educational.

"Involving children in gardening and cooking is another great way to inspire eco-friendly living," Alba shared. "Caring for the plants in our herb wall garden helps Honor understand the steps to growing food (including patience!), how it ultimately lands on her plate, and about being a good steward of the planet."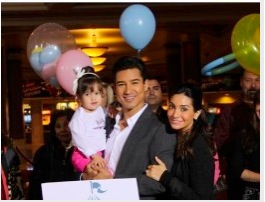 Mario and Courtney Lopez are expecting their third child. The newlyweds recently opened up to Celebrity Baby Scoop about their baby on-the-way and the importance of being eco-friendly.

"We are teaching Gia how important it is to recycle," Lopez said. "We also just changed our whole house to LED lights."  Oh those dimples!! 
The beautiful Tiffani Thiessen, known on television as Kelly Kapowski in Saved by the Bell and later Valerie Malone in Beverly Hills, 90210, is also getting the word out about Earth Day.  She and her 2-year-old daughter, Harper, are trying to lead a healthier lifestyle.
 

 

"Earth Day is very important to us," Thiessen said. "I've always been a believer in being green. We as a family recycle. We grow our own veggies and we have water tanks that store rain water and we then use to water our yard."

 Get the full scoop at 
CelebrityBabyScoop.com is one of the most popular blogs on the topic and the foremost provider of everything celebrity-baby, featuring baby fashion, baby names, baby trends and up-to-the-minute celebrity baby gossip and pics. Get all the latest news, updates, and photos about Hollywood's most beloved celebrity moms, dads and their babies.